Today was a good day, especially for the inhabitants of Room 2, or, as we like to call it out of sheer lack of imagination, the Girls' Room. The panelists and fellows seem to be in general agreement that Rica Santos is a genius at writing personal essays, Tara Sering is a fiction-writing genius, and Mookie Katigbak is a poetic genius. (During the photo-taking session today in between discussions, the three geniuses struck Charlie's Angels poses together.) Am very happy at the way their discussions turned out, and am now looking forward to Mookie's first book, Tara's upcoming novel, and buying Rica's
Love, Desire, Children, Etc.,
when I get back to Quezon City.
After dinner the workshop participants bonded in the way writers always do: by sitting in a circle and taking turns reading classic epic poetry in stentorian voices. Just kidding. Writers bond via alcoholic drinks and filthy jokes, like everyone else.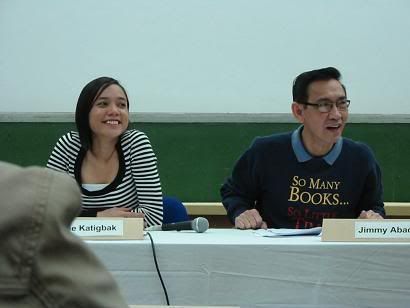 What does Jimmy Abad think of Mookie's poetry?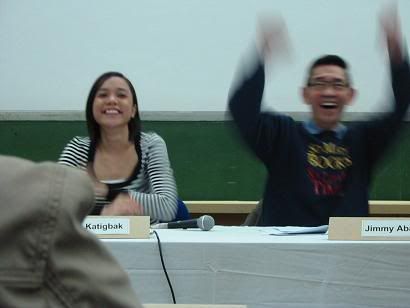 HE FREAKING
LOVES
IT.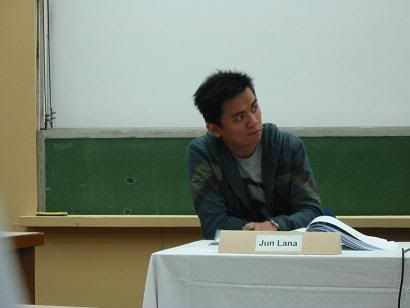 Jun Lana can't believe a word he's hearing.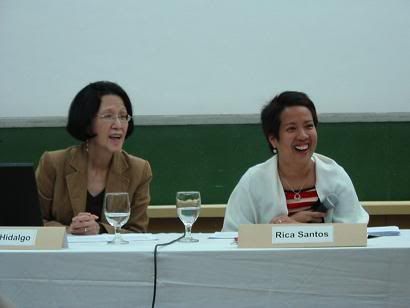 FYI: Jing Hidalgo and Rica Bolipata-Santos aren't laughing
with
you -- they're laughing
at
you.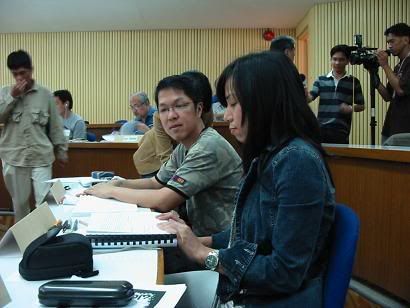 Nick Pichay looks on while Tara Sering demonstrates her carnival-worthy ability to read manuscripts via osmosis. Meanwhile, something is stuck in Frank's nose.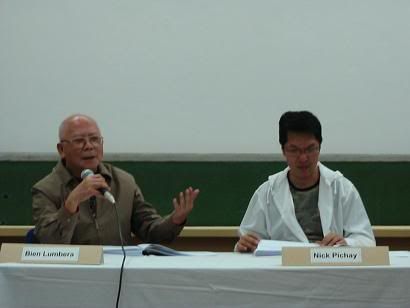 "Wassup my writaz?! Big Daddy Bien is in the
hizzouse
. What!" National Artist Bien Lumbera gives it up for his literary homeboyz. Writaz 4 life, y'all. Word.