I'm back! Holy crap, it's good to be at home and in front of a working computer again. For a while there, I had to work in internet cafes, paying by the hour whilst surrounded by people flirting by webcam and playing networked games. Luckily, my friendly neighborhood computer genius came over and finally killed the virus that had been eating my PC alive.
So much to blog about. But first, let me just inform alla youse that BURN #3 is on the stands now! It's got features on Sino Sikat?, Chicosci, Dong Abay, Gary V, Kyla, the Red Hot Chili Peppers, The Dorques, and lotsa others. And of course, as always, it comes with a free CD, with Actual Music (from Sino Sikat?, Bob Aves, Faspitch, etc.). Get one now!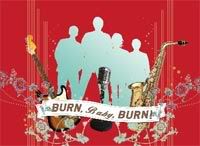 And speaking of BURN, last Thursday's soft launch at Embassy Cuisine was a real blast. Thanks to Yvette, JB, Steph, Waya, Lala, Karlo, Fran, JP, Indira, Earnest, Aldus, Eric, Cris, Jovan, Cait, Mon, Ramon, Pat, and everyone else who went! Drip and Sitti both played excellent sets, there was an open bar (at least 'til around 10) and plenty of eye candy for the boys and girls, and all in all, it was a damn good night. I wrote the script for the event and the text for the Press Kit and threw together the PowerPoint presentation, so I was more than a little pleased that it all went well. Read all about it in my column in the Bulletin next Tuesday.
Still on the topic of BURN, Up dharma Down fans may wish to drop by Megamall later; they're playing for the first leg of the BURN Mall Tour at 5 PM. (Complete schedule below.) See y'all there!
BURN SM Mall Tour
August 05 SM Megamall 5PM (Up dharma Down)
August 12 SM Southmall 5PM (Barbie Almalbis)
August 19 SM North EDSA 5PM (The Dawn)
August 20 SM Mall Of Asia 5PM (Nina and Christian Bautista; front act - Callalily)
BURN Main Concert: BURN, Baby, BURN!
September 28 SM Mall of Asia, Music Hall 6PM
Featuring: Bamboo, Imago, Itchyworms, Sugarfree, Sitti, Radioactive Sago Project, Up dharma Down, Drip, Chillitees, Callalily, Sino Sikat?, 6cyclemind, Hale, Orange and Lemons, Pupil, Nina, Christian Bautista, Barbie Almalbis, and lots more.