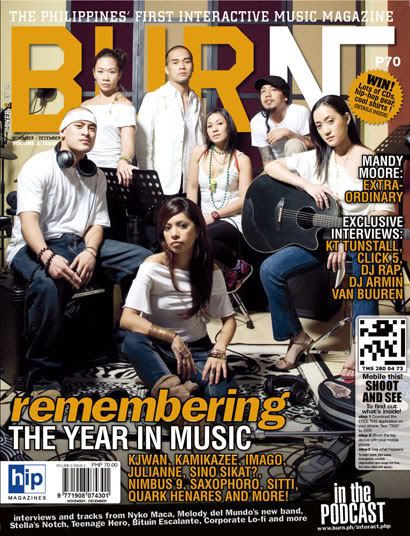 Wow, three blog posts in a row! One would think I didn't have a full-time job any more... oh wait, I don't. ;p Actually, these posts have been sitting in my hard drive in half-finished form for quite some time; it's just that I realized that most of them are about publications that came out in November, and November's almost over. So: November spawned a blogger. (Those of you who got the reference, feel free to scream and throw rocks.)
ANYWAY! If you are at all interested in music -- particularly the local scene -- and you haven't grabbed a copy of the new BURN yet, then... then... I'll come up with some amusing metaphor for how wrong that is, later. The year-ender issue is out now (I love year-ender issues), and as you can see, we pulled out all the stops. On that front cover alone, we've got Nimbus9, Kat of Sino Sikat, and Julianne in the front row, and Nyko Maca, Marc Abaya, Aia of Imago, and Jay Kamikazee in the back row. Big hand of applause to Denise and Conch for pulling off the logistically nightmarish shoots (and for much else, besides)! And there's lots, lots more inside, a whole parade of fantastic musical artists who made their mark in 2007. And of course, there's our Best Albums of 2007 feature. This time around, partcipating reviewers were: Cris Ramos Jr., Denise Mallabo, Dodo Dayao, Erwin Romulo, Kristine Lim, Lester Hallig, Thor Balanon, Yvette Tan and myself. Thanks, people!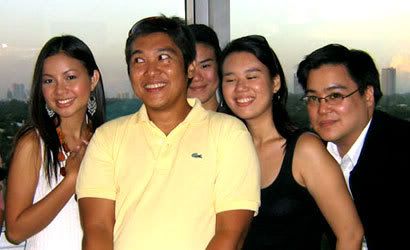 This picture was taken during the first time I interviewed Sitti, over a year ago. That's her on the far left, with me and Yvette on the far right. (Yes, I still had hair then.) The guy in the middle is photographer and clothing designer
extraordinaire
Che Katigbak, who also happens to be my
Kuya
.
Speaking of music, check out the i section of the Manila Bulletin today (Wednesday, November 28). In this week's installment of my column, "The King of Nothing to Do," I have an interview with the lovely bossa nova sensation Sitti.
LUIS: If you could talk to the younger you—the one who was working her way through college, singing in hotel bars—what would you say?

SITTI:
I would say two things: one, all your efforts will pay off, just hang in there and work hard, and second, ironically, treasure your lounge act memories, where you are freer and there is no pressure at all from anyone. [smiles]