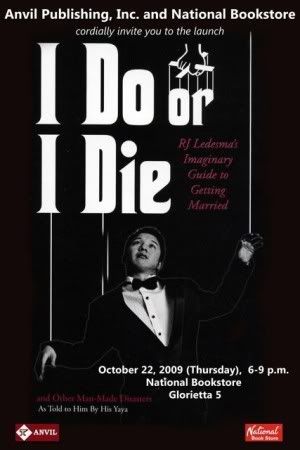 "There is no end to writers that attempt to write comedy. Many comics are funny, but few are hilarious. Ledesma is, well, hilarious.
"What makes him even more hilarious than most writers of comedy (and there are not, sadly enough, too many of them in the Philippines, at least not as many as the grim-and-determined, anti-feudalist, anti-capitalist, anti-imperialist, anti-Manila, anti-English, anti-Malacañang constipated types) is that he finds even things familiar to us funny.
"Ledesma was my student in creative writing at De La Salle University. In the beginning, he fancied himself an economist, taking up an undergraduate degree in economics. I like to flatter myself by saying that I snatched defeat from the jaws of victory by making him go the route of underpaid, unpaid, unappreciated, unwanted creative writers..."
(From Isagani Cruz's intro for RJ Ledesma's
I Do Or I Die
-- launching
tonight
, Thursday, October 22, 6 PM at National Bookstore Glorietta 5. There will be food and drink aplenty. Seeya there!)