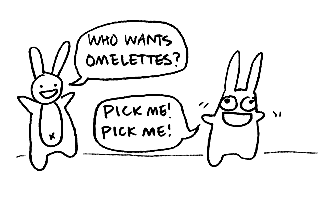 Got email from Sam M. RE: the many many recent versions of "Umbrella" floating around. Got me thinking about covers of popular songs, and how they sometimes turn out even better than the originals. (Am reminded of the way some of my favorite local artists remake songs at the Route 196
Stripped
gigs. Somehow, cool artist + cheesy-yet-catchy song = good times.
Been enjoying three such covers lately, and you would do well to download all of them before they're taken down: go to these blogs to get The Gossip's excellent reworking of Wham!'s
Careless Whisper
, The Wedding Present's version of Take That's
Back for Good
, and, quite possibly my favorite, The Bird and The Bee's version of the Bee Gees'
How Deep is Your Love
. You'll thank me.
PS. The Poofy panel has nothing to do with this entry. But I like Poofy. So there.