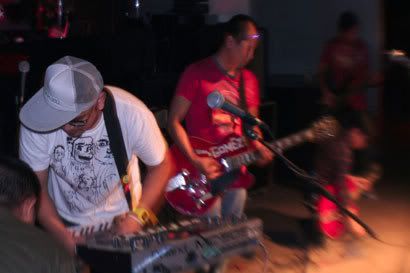 Marcus and Ace of Bagetsafonik: automatik for the people.
"So," I texted a friend last Saturday night -- or, more accurately, last Sunday morning, "I did not plan to end my evening by dancing around to a live rendition of Maria Vidal's "Body Rock," but then these things happen."
Last Saturday was a lot of fun -- first, I dropped by the launch of
Private Iris
, a new comic book by
Arnold Arre and Jamie Bautista
, which was held at Fully Booked at The Fort in the afternoon.

They had a great setup, with activities galore for the kiddies and posters and backdrops and everything. Great to see Arnold and
Cynthia
again. :)
Private Iris
the comic is very well done, entertaining and smart and of course gorgeously illustrated, and I was happy to get a copy for my 7 year-old
inaanak
Kaya, who is as intrepid as Iris herself.
Afterwards, went to the
Milagros Dancehall Collective
album launch (congrats to the band, especially "boy toy Caloy," ha ha ha), and the
Scandalosa exhibit opening
, both of which were held at SaGuijo. MDC performed well, as usual, but I wasn't used to watching them so early (around 7 PM) -- they're usually at their best as the penultimate act or finale of a multi-band production night, getting people on their feet and dancing and slightly delirious at around 2 or 3 AM. Scandalosa was interesting, it featured three very different types of art by three female artists (including Francesca Ayala, one of the Star's better columnists). As the Inquirer article says, "in the works, there are no identities, but only incriminating acts being carried out. This, the three girls say, is what you get remembered for."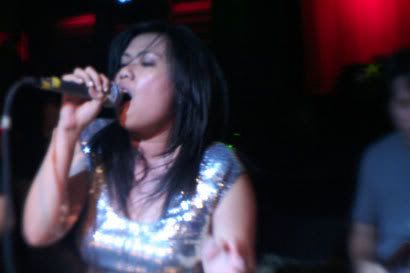 Waya asks a very important question: "Do Ya Think I'm Sexy?"
Finally Fran and I trooped over to Warehouse 135 for a Lomomanila party with performances by Drip, Bagetsafonik, Juan Pablo Dream and The Ronnies (with special guest star Waya Gallardo). "There will be sequins!" Waya had informed us beforehand, and she wasn't kidding. Her mirrorball outfit was something to behold (and went quite well with the Warehouse decor, actually). Much to my dismay, I just missed the Drip set -- I ran into Arvin/Caliph8 on his way out -- but we managed to catch Bagetsafonik from the beginning, and it was one of their better performances; the venue seemed to suit them.
Juan Pablo Dream was a blast, they did a bunch of retro covers (I suppose all covers are arguably retro, but you know what I mean) and bouncy originals like the adjective-deficient "Nice Place" ("Let's lend him a thesaurus," Margie quipped). And of course, The Ronnies made us all happy. In fact, they made one guy so happy he took off his shirt while Waya was on guest vocals doing "Do Ya Think I'm Sexy?" It was an isolated moment of awakwardness and horror in an otherwise totally fun set.
So, see you all on Stevie Wonder Night? :) This Saturday, April 26, at
Route 196
. Featuring Chillitees, Swissy, The Ronnies, and -- yay! -- Waya Gallardo and guitar demigod Noli Aurillo!
Gig pix stolen from Lala the Cat. Hi Lala!
.