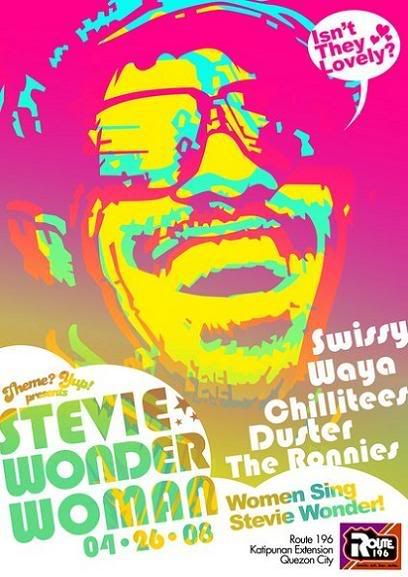 This is where I plan to be this Saturday, April 26:
Stevie Wonder Woman
night at Route 196! It's the "songs of Stevie Wonder, interpreted by female-fronted bands and solo acts," and what a lineup it is: Chillitees, Swissy, Duster, The Ronnies, and -- yes! -- Waya Gallardo, accompanied by guitar wizard Noli Aurillo. Those of you who have never seen Waya perform before
owe it to yourselves
to go. And, you know, the other acts are no slouches, either. Am especially looking forward to watching Duster again, it's been a while.
I still remember Waya, a couple of years ago, doing a surprisingly sexy impromptu cover of Stevie Wonder's "Overjoyed" -- surprising because the original, while uplifting, isn't really sexy at all, but not so surprising when you consider that it was Waya doing the singing -- in front of an audience of devout Christians, immediately causing the whole lot of them to sin in their minds.
Poster by Miguel Gallardo, stolen from The Ronnies' Multiply.