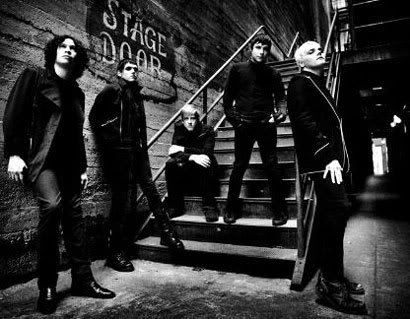 Talk about the Black Parade. Just got home from the big My Chemical Romance concert at The Fort -- the last time I saw that many people in black shirts wandering around was probably at the Summer Slam, or the last Fete de la Musique I attended, the one in Ortigas. There seemed to be even more people tonight though: the Fort Bonifacio Open Field was host to a massive army of chair-climbing, arm-waving, top-of-their-lungs shouting MCR enthusiasts. Yvette and I got a pretty good spot -- thanks, Yonina! -- and we enjoyed ourselves a lot.
Woo hoo! I love you, Gerard Way!
(Well, not really. But since he is both a bona fide rock star AND a genuine RPG and comics geek -- can't wait to read
The Umbrella Academy
-- I do love the
idea
of him.)
And you know, the band's music is pretty good. I haven't been able to listen to their first two albums in their entirety, but I really liked
The Black Parade
, apparently their most ambitious work yet. Before they took the stage, the sound system was playing songs by different acts, and it was like a roster of their influences: Queen, Green Day, Pink Floyd, et cetera. When we attended the presscon the day before, every single journalist I spoke to seemed less than enthusiastic -- they all identified themselves as not-fans -- so on the way to The Fort, I was wondering if MCR would draw enough people to fill the venue. I should have realized that their dramatic, romantic, death-obsessed and anger-fueled songs would inspire as much -- if not more -- devotion as derision.
High points included "Welcome to the Black Parade" ("Sing along -- I think you know the words," Gerard Way said, playing off the audience near the stage with the bigger crowd at the back), "I'm Not Okay," "I Don't Love You," and, for me, that part when G. sang a snatch of a Queen song, the "Just a man..." bit from "Flash" (a-ah!). And of course, when they did "Helena," everyone howled along to the "So long and good night" refrain. The band seemed surprised and touched by the size and enthusiasm of the audience -- "It looks like the whole city is here tonight!" Gerard marveled, later adding that "This is something we'll remember when we're all old men... you know, four years from now."
Lotsa pictures (and amusing-as-usual commentary) from the MCR presscon over at
Niña's LJ
! (My favorite part of the presscon? When Curtis of Summit's morbid questions caused guitarist Frank Iero to say, "...I think she wants us to
die
.")