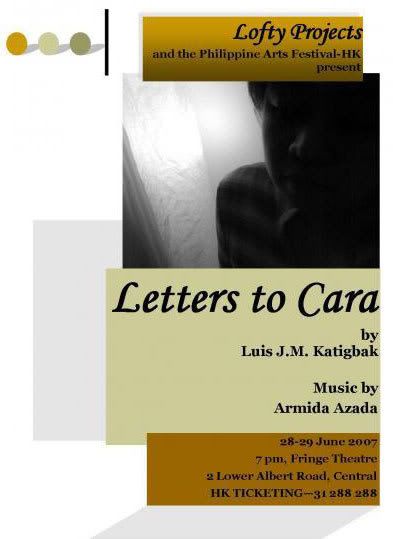 So one of my short stories has been adapted for the stage, and is going to be performed in Hong Kong this June 28 and 29! From the
HK Ticketing
site:
Letters to Cara
: "This one-act production is adapted from a short story by Luis Katigbak, written in the form of letters. It comprises 13 letters to Cara from an unnamed writer, her dear friend. As you hear Cara read the letters, in her mind's voice, you will gradually glean clues about the two characters. Music included."
I wrote this epistolary story over a decade ago, and a version of it appeared in the first issue of
Chimera
. I didn't include it in my first short story collection because I always wanted to revise it somehow. Maybe it'll be in the second.
Thanks,
Mida
. :)