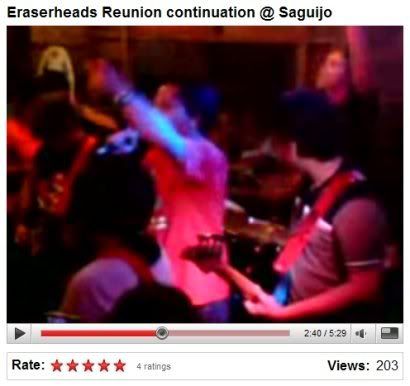 So I wasn't at the Eraserheads reunion concert last night. For people who know me as a big (no fat jokes, please) music fan, that takes a bit more explanation than I'm willing to get into right now. But I was happy that Yvette and I got to be at soundcheck the night before, to watch and listen to the reunited E-heads go through several complete songs from their repertoire, as well as bits and pieces of their other songs and even a couple of covers (I almost swooned when they did a bit of David Bowie's "Ziggy Stardust"). That was enough for me, really. And I was happy for the people who were going last night, who would be witnesses to the most highly anticipated concert in this country since... well,
ever
.
Around the time the concert was starting, I was having dinner at Pancake House with Kidlat and Lissa. Our talk naturally turned to music and bands and motivations and dynamics and the Eraserheads, just as I was getting texts from friends who were at the venue. A little over an hour later, Kids and Lissa had gone home and I had walked to the nearby Eunilaine supermarket to buy some groceries. That was when the texts about Ely being rushed to the hospital started to reach me. It was a very weird sensation, getting the news and having absolutely no one near me to share it with, to freak out with.
Walked to the Burger Machine down the street to buy food to take home. While I was waiting for my order, this fresh-faced couple dropped by. The girl was toting a Stephanie Meyer novel, the guy had that day's Manila Bulletin. I suddenly remembered that I hadn't checked yet whether my Saturday music column had come out on time (I had submitted it rather late), so I asked the guy where he had bought it. He ended up giving it to me (thanks, man, whoever you are), and I ended up talking to the two of them, complete strangers, about the E-heads concert and Ely's collapse. (They were E-heads fans, of course; the girl more than the guy. I think almost everyone in a ten-year radius of my age is an E-heads fan.) That was how much I needed to talk to
someone
about what felt like a triumphant/tragic moment in Pinoy music history.
By the time I got home I had learned that Ely was in Makati Med, in stable condition, reportedly. Denise called and gave me a first-hand account of the show and we talked 'til my phone battery died. I went online early this morning, and sure enough, everything was Eraserheads: aside from the official news stories on Ely's condition and the concert, more than half of the recent status updates on Facebook had to do with the Eraserheads, and friends were posting lengthy and in many cases quite affecting accounts of the night, on their blogs. Already quoted Sarah earlier, but two more posts in particular deserve mention:
First, Oli's evocative and extremely well-written account: "It was a transformative show. A countdown timer had people chanting, as if it were New Year's Eve, the seconds before the E-heads would be together again at long last. A drumburst from the darkened stage let us know that they were there and when the familiar chords to
Alapaap
broke through, we all felt tearjerky. The songs rolled out like old intimates welcomed back into our lives after years of absence. From my vantage point in the middle of the Patrons section, I captured some videos on my old point-and-shoot. What the official DVD release will not be able to capture is Ely's voice remixed with the voices of countless fans singing along -- in low intensity during less familiar lyrics, in full throated throttle during the choruses. The Eraserheads seemed to realize this, and at moments, Mr. Buendia would lay back, content with accompanying the fans who were doing the singing for him. This was our reunion concert too." [Full post
here
.]
And then there's Katwo's amazing post, which covers her personal history growing up with the E-heads' music, all the way to yesterday's concert
and
the now-legendary follow-up jam at saGuijo right after. "This was the eraserheads. This was OUR eraserheads reunion 2nd set, because this was just US. Everyone in the room sang, it didn't matter who was at the mic. The band was just there to assist everyone to purge all feelings, memories and to commemorate the greatness that is the eraserheads. And the gig was such a contrast to the Fort stage. No state of the art stage production, raims and buddy didn't even have their complete instrument set up, there was no 5 meter barricade from the artists, there were only a about, at the most, 200 hundred people in the crowd, free beer getting served, there were no SVIP sections, no security guys, no swanky buffet food, no press. But there we were shouting Tang Ina to Pare Ko, singing Tito vic and joey with Aia on Spolarium, doing our lalalala-la-las to El Bimbo." [Full post
here
.]
Is it strange that I don't regret not being at The Fort for the first set, but sorely wish I had been at saGuijo for the unofficial second? For a glimpse of the sweaty shouty blissful fun, click
here
for "Magasin" (thanks to Quark) and
here
for "Ang Huling El Bimbo" (thanks to Mark).
I'll end with another quote from Katwo. "I finally gave in to my fan-girl self and told Buddy that they've changed my life in more ways than they can imagine. They might have inspired me, but I still did all the legwork to change my life." Well said, well said.