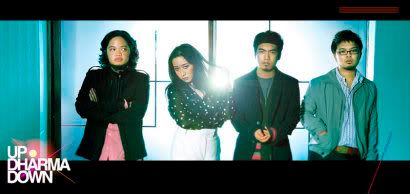 It's here! It's here! Well, almost.
Up Dharma Down
's second album launch is nigh. Here are the official details:
Friday, October 24, 2008, 8:00 PM
Hexagon Lounge, RCBC Plaza
Ayala Avenue corner Buendia Avenue
Makati City, Philippines
P150 entrance with drink
P500 entrance with drink + Limited Edition CD + Documentary DVD
(Map
here
.)
Here's what I wrote in last Saturday's edition of
Luis Listens
:
"They're young, they write fantastic songs, and they have a unique sound, drawing from rock, neo-soul, and various sub-genres of electronic music. There are those who see them as the saviors of Pinoy rock, and while that would be overstating the matter (and putting undue pressure on the band), I can see their point -- it's not hard to imagine them making an unprecedented impact, not just here, but overseas. No less than the frontman of one of my favorite foreign acts, Paul Buchanan of The Blue Nile, is a fan of theirs; in fact he called them his
favorite
group, and said that they make "beautiful, victorious, elegant, muscular music," which is high praise indeed, especially considering the source.
"The launch of Up Dharma Down's second album,
Bipolar
is this October 24, around 8 p.m. at the Hexagon Lounge, 4th floor of the RCBC Plaza. When I first heard some of the new tracks performed live earlier this year, my feeling was that they had pushed the excellent songwriting on their debut
Fragmented
both ways: they were writing even more appealing, more accessible stuff, and they were also doing more challenging, more experimental material. Hearing some of the new tracks in advance seems to bear this out. It should be quite the album."