So my workshop roommate Ian posted a long, long, photo-heavy entry about the UP ICW Workshop in Baguio. I love it. Behold his post in all its glory
here
. I stole a couple of photos from his blog (as with the previous post's group shot, you can click on them for bigger versions):
Yvette, myself, and Harrison Ford -- I mean, Butch Dalisay -- at Bencab's house.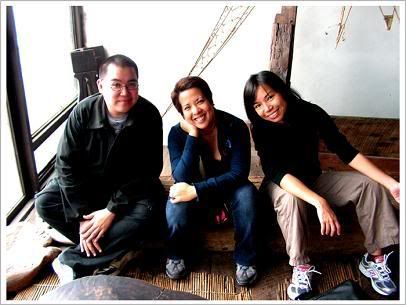 At Vocas with Rica and Tara. Our smiles are either due to the warm glow of friendship, or the warm glow of having eaten excellent putanesca. Possibly both.
If a picture is worth a thousand words, then Ian's post is worth more than 136,000 words, which makes it the equivalent of about four novels, more or less.