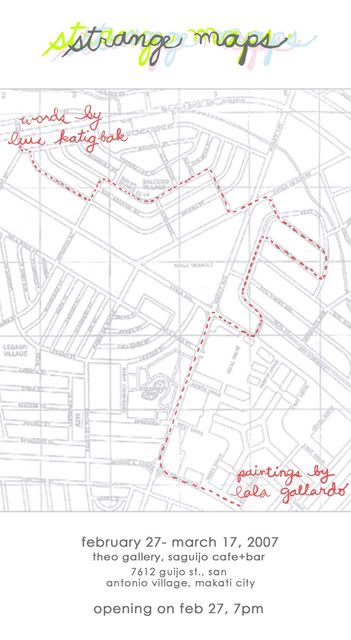 It all started when I attended the Graphika Manila conference last December with my friend, visual artist Lala Gallardo. (Lala's an immensely talented young artist who's had a bunch of solo and group exhibits, at places like the CCP, Big Sky Mind, Store for All Seasons, and Chunky Far Flung Gallery in Cubao.) When we were taking a short break from the lectures, she suggested that we work on an exhibit that would combine her images with my words.
I ended up writing ten very short pieces of prose, which Lala is incorporating into ten works of mixed-media art. Some themes emerged in the process: distances and how we deal with them, the relationships between people and places, the faint yet constant yearning for elsewhere. "Strange Maps" seemed an appropriate title.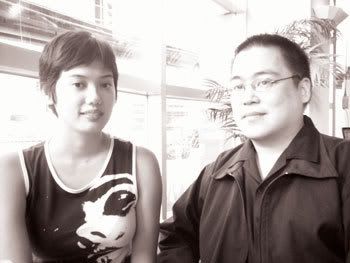 Photo by
Joelle Jacinto
. Thanks Joelle!
We'd like to invite you all to the opening at the second floor gallery of
SaGuijo
next
Tuesday, February 27, 7 PM
! By a wonderful coincidence, a Play4Serve production is scheduled for that same night, and the lineup is
killer
: Sandwich, Imago, Daydream Cycle, Teeth, Pedicab,
Vin Dancel's new band Peryodiko
, and this new all-girl supergroup called
Duster
which I'm very excited about, which counts among its members Katwo of Narda, Kris of Cambio, and Myrene of Sandwich/Imago! Hoo boy. Also, according to Cris Ramos, The Bitter Pill will be playing too, for the first time in far too long a time.
So, go to the exhibit opening at 7 PM, then head on down for the gig afterwards. :) Sounds like a great night out to me. Hope to see you there!