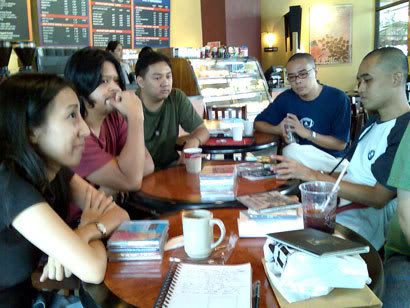 Since I was finally able to upload the photos from my phone to my PC (thanks Jovan!), I'll be putting up those pix here every now and then. This is a shot of some of my Review Crew, the people I go to when I want CDs for BURN or Pulse.ph savaged -- I mean, critically assessed in a fair and balanced fashion. This was taken during a Saturday morning at the Megastrip, when I was distributing CDs for review. (Notice the Katelyn Tarver album on top of Kristine's stack.)
Left to right, that's Kristine Lim, Dodo Dayao, Karlo Samson, Eric Melendez, Cris Ramos Jr, and Erwin Romulo's green right shirtsleeve. Not in shot: Aldus Santos, who was sitting at a table off to the right, and Yvette Tan, who was sitting beside me.
A great bunch of people, and excellent, honest reviewers all. Am very proud to be working with them. Am also relieved to have people to share all the death threats from disgruntled artists with. I kid.