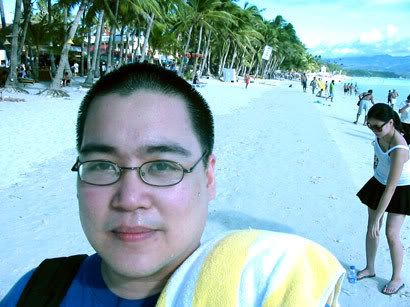 Am back from Boracay, where I covered the Summer MYX Fest, with photographer and friend Kidlat. It was my first time there, and I enjoyed myself immensely: the food, the swimming, the people, the gigs -- it was all good.
The MYX event kicked off with a surprise set from Wake Up Your Seatmate (the very cute Mia Tengco wore a bare-midriff beach outfit, much to the delight of male fans), and ended with Sandwich jamming with members of all the other bands who played (Aia of Imago, Yael of sponge Cola, Ney of 6cyclemind, and special guest Mich Dulce) and Raimund diving into the delirious, jump-up-and-down crowd. We also attended NU107's Soundburn concert featuring Sugarfree (my favorite part: when Ebe segued smoothly from "Tulog Na" into "Suburbia" by the Pet Shop Boys), and dropped by Boracay Bound 6 at Aria. All in all, not a bad way to spend a couple of days. ;)
P.S.
It seems I am suffering from beach withdrawal. Am now down with a clogged nose and a sore throat. Ah well.