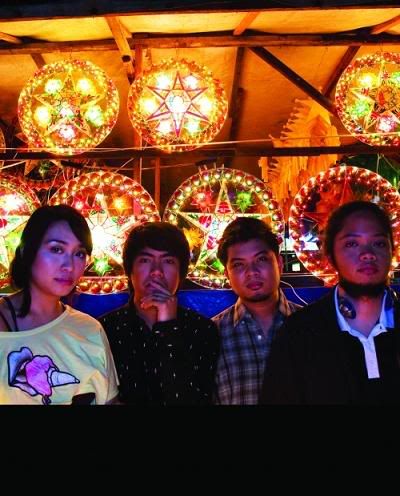 Up Dharma Down photographed by Everywhere We Shoot for Imagine Magazine. Taken from Mrs Supergift's blog.
Imagine Magazine #3 is out! It's the
special music issue
, entitled
Imagine The Groove
. I'm Guest Editor for this issue (my usual title on Imagine is Contributing Editor), but while I had a bit more participation this time around, the real credit, as always, goes to brilliant EIC Joyce Fernandez, as well as Kai Magsanoc and Yonina Chan and some other people who will feel like kicking me for not mentioning them by name. But you know who you are. :)
The launch is
TONIGHT
, January 23, at Cubao X, 7pm onwards! Do drop by.
There's a lotta stuff in this issue, but the main fashion feature has Everywhere We Shoot (Ryan + Garovs), Matt Gozun, Jujin Samonte, Jerome Lorico, Kenneth Chua, Geof Gonzales, Rcxy Bautista, Lotho, Daryl Chang, Andre Chang, and Cecile Zamora interpreting music by Radioactive Sago Project, Up Dharma Down, Drip, Ang Bandang Shirley, Outerhope, Musical O, Paramita, Swissy, Daydream Cycle, Juan Pablo Dream, and Sleepwalk Circus.
Bands were photographed by Everywhere We Shoot, Aldwin Aspillera and Richie Castro. Articles on the bands were by myself, Erwin Romulo, Sarge Lacuesta, Mookie Katigbak, Aimee Marcos and Je Bautista.
Whatta lineup, eh? See you there!