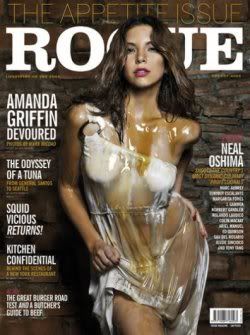 I haven't gotten my own copy yet, but I have a new short story out in the August issue of
Rogue
magazine: "It's Not Me." Here's an excerpt:
"When Nema was little she believed that everyone was born with a twin. She was her parents' first child, and they had followed her up with two boys when she was four years old -- Ernesto and Emmanuel, identical twins. Sitting in the hospital room right after their birth with her recovering mother, she had wondered out loud, "Where's
my
copy?" Lengthy and patient explanations from her mother and father followed, but deep down she found these unconvincing, and just pretended to accept them. She figured that her parents were too embarrassed at having misplaced her double to tell her the truth. The fact that almost everyone she knew was deprived of a twin just meant that parents everywhere were unbelievably careless."
The story came about because of repeated listenings to Drip's excellent
Identity Theft
album and from reading a book about the neurological, anthropological, and psychological roots of self-recognition (
The Face in the Mirror
by Julian Keenan). I'm quite proud of it.
P.S. This is also the last issue of
Rogue
with contributions by ex-Features Editor Erwin Romulo.