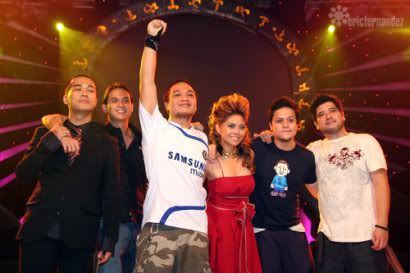 Kjwan triumphant at the Philippine IKON Finals sponsored by Pulse.ph
It's been almost an entire year since I decided to leave my position as Senior Web Editor of Wolfpac Mobile Inc. -- or more specifically, Editor-in-Chief of the music site
Pulse.ph
. By September 2007 I was out of there, though I did continue to write and upload articles through the CMS until 2008. I have some regrets, but I think I made the right decision. I did love putting together Pulse.ph though, and I do miss working with the Pulse people and the rest of Wolfpac: Joelle especially, and of course Pats, Rad, Richard, Deo, as well as Eric, Jaja, Mitch, Arvin, Ian, Bona, Coy, Butch, Jojit, Trish, Anna, Sweet, Rexy, everyone. They're great people.
So anyway, thanks to Aldus'
recent interview with Marcus Adoro
, I found myself clicking through the Pulse.ph archives -- and man, I don't mean to sound too self-aggrandizing, but there is a lot of amazing stuff there. It reminded me of the best parts of my old job. Suddenly I missed brainstorming with Joelle and Pats about artists to feature and events to cover and all that, and I missed choosing and assigning and even editing freelancers, not to mention covering and writing stuff myself. I missed impromptu lessons on hip-hop lore from Arvin and Rad's daily doses of sheer insanity.
Here are ten of my favorite features from the Pulse.ph archives (and yes, I did not exclude my stuff). The site's search function is a little off -- run a search on mine or Joelle's name, for example, and only a handful of results pop up (as opposed to the million jillion articles we actually wrote). Plus the Lowdown feature seems to have disappeared from the drop-down menu. But anyway, here are the ten favorites I came up with by clicking through the years on the right-hand side. (Click on the article titles to read them in full.)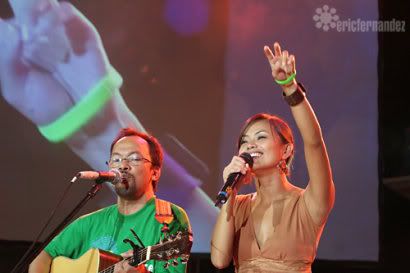 Noel Cabangon and Hannah Romawac photographed at an Earth Day concert for the Pulseparazzi section
1.
THE PULSE.PH TOP 10 SONGS OF 2006
by Joelle Jacinto and Luis Katigbak
"From dramatic death-obsessed screamo epics to Celeste Legaspi-sampling hip-hop: here are the best songs of 2006." (Can you tell I had fun writing subheads for all the articles?)
I loved writing these "Best Of" features with Joelle. I wish we had done this again for 2007, but of course, by the end of that year, both of us had left Pulse.ph. Dividing the labor was fun. ("You write about Scissor Sisters, MCR and Muse, I'll take Lupe Fiasco, Lily Allen and Up dharma Down...") And of course, there's the companion piece:
THE PULSE.PH TOP 10 ALBUMS OF 2006
by Joelle Jacinto and Luis Katigbak
"From sexy, dancepunkish self-reinventions to sexy, distinctively Pinoy R&B... You can tell that we like us some sexy. here are the best albums of 2006."
I might change some of the rankings and maybe replace one or two choices now, but on the whole, it's still a list I'd stand by.
2.
LUNATICS LET LOOSE IN THE ASYLUM: PINOY ROCK IN 2006
by Erwin Romulo
"Music critic, film director and all-around creative force Erwin Romulo talks to old punks, looks at Pinoy rock's past and present, and identifies the most important acts of our time."
An overview of the lively 2006 scene, from mainstream to underground, that somehow manages in the end to be more inspiring than cynical.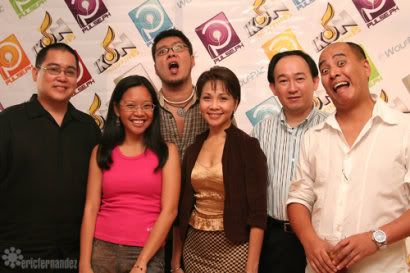 Pulse people! L to R: me, Joelle, Pats, Rayna, Richard of IKON Singapore, and Jojit
3.
SOMETHING VERY WRONG: ROBERT SMITH AND THE MALADJUSTMENT QUOTA
by Terry Gonzales
"Last July 30, legendary rock band The Cure played in Hong Kong for the first time. Terry Gonzales shares her thoughts on the matter."
Pulse.ph featured a lot of great events coverage, from people like Jewel Regal, Aldus Santos, Kristine Lim, Maniel O'yek, Nina Sandejas, and of course Joelle and myself. There are two events pieces that I particularly enjoyed though. Terry's sole article for Pulse.ph was one of them; had I stayed on as Pulse EIC I would definitely have bugged her for more. Here's an excerpt: "I arrived in Hong Kong in the perfect state to see a Cure concert: restless, lovelorn, and slightly unwashed. It was a day for an excess of eyeliner and melodrama."
4.
NOFX IN MANILA: PUNK CLUNKS ERRORISM
by Paolo Enrico Melendez
"Eric Melendez reports from the front lines of the NOFX concert at the Amoranto Theatre last April 18: from slow start to fiery frenzy."
And here's my other favorite event coverage feature, by Eric. That last paragraph still gets me
every time.
5.
CHICOSCI: BLOOD BROTHERS
by Yvette Tan
"Their music may be dark and dramatic, but these guys have a sense of humor: Chicosci talks about haircuts, gayness, giant billboards along EDSA, and other bands' lyrics."
Yvette has written many an excellent article for Pulse.ph, but this one stands out for me: interesting, informative, amusing; even people who don't like Chicosci will have fun reading it. Here's Miggy and Mong explaining their appeal: "'Androgyny,' Mong adds, 'Or let's just say it straight up. Our gayness,' he deadpans. 'Our gayness!' Miggy laughs. 'What's up, bitches?'"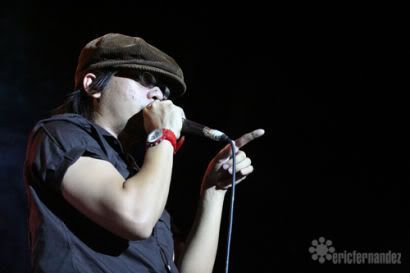 The Radioactive Sago Project: the only band to ever get a perfect score, 10/10, in the Pulse Reviews section
6.
WISHING I'M FINE: 10 SONGS FOR HEALING
by Joelle Jacinto
"There are songs that can provide comfort from the literal and metaphorical storms in your life. Joelle Jacinto lists ten of the songs that do that for her."
Joelle, being a Pulse.ph writing staff of one, wrote tons of stuff, all of it good. I could make a list filled with "greatest hits" by Joelle alone: the Helen feature, her Lowdown piece on working at Sony, her piece on Jesus Christ Superstar, and so on. This one's special though. An excerpt:
"Sometime in mid-June, my friend Kathy put together a playlist for her friends. I listened to it and felt embraced, comforted, as if it were raining outside and she provided me warmth. I told her it sounded like a playlist for healing and she admitted that it was. [...] I've been broken before—by relationships, by lost career opportunities, by sprained ankles at the height of my dance career—and I've been healed by music."
7.
DIVINE WRITE: SONGWRITERS AND THE CREATIVE PROCESS
by Aldus Santos
"Dong Abay, Ely Buendia, Vin Dancel, Owel Alvero, and Aldus Santos take turns in a slippery show-and-tell: how are these damn songs made?"
And speaking of people who could fill up a "greatest hits of Pulse.ph" all by themselves... Ladies and gentlemen, Aldus Santos. Excerpt: "There is nothing more elusive than the artistic process. Often, being asked to speak of one's craft is like being asked to describe the sun, the stars, or the wind: you'd be right, but you'd be terribly mistaken as well."
8.
MAKING A MIX TAPE
by Kristine Lim
"Heir to her dad's mad mix taping skills, Kristine Lim gives us rules for making awesome mixes (updated 04.23.2007 with a sample post-breakup mix.)"
Kristine, one of my favorite freelancers, no matter which magazine we're talking about. Always a joy to read. Excerpt: "Making an awesome mix tape can get you laid. I'm proof-positive. I wouldn't be here today if it weren't for my dad's mad mix taping skills."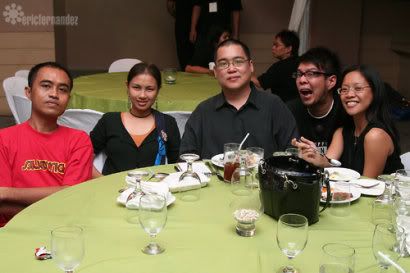 Eating at IKON: L to R, Cris Ramos Jr, Mitch Baylosis (both were there to cover the event), me, Pats (who seems incapable of not twisting his face for photographs) and Joelle
9.
THE NU107 ROCK AWARDS HIT 13
by Luis Katigbak
"Who rocks? Who rules? Year in and year out, rock radio station NU107's awards show salutes the best bands, albums and songs: this 2006, they get their teenage kicks. (Updated with winners and commentary.)"
For this monster article, I interviewed almost everyone at NU about the history and purpose of the rock awards, and then covered the event itself as a follow-up. Exhausting but I'm proud of it. It may be the single longest feature Pulse ever ran.
10.
NARDA'S LAST FLIGHT
by Joelle Jacinto
"Well-loved rock band Narda has fought the good fight for over four years. They've given us amazing performances and many wonderful songs: We're going to miss them."
What better way to end this list than with Joelle's farewell-to-Narda piece? It was originally just supposed to be a Narda feature, and then the band broke up. Sad, but well, it's not as if the members stopped making music.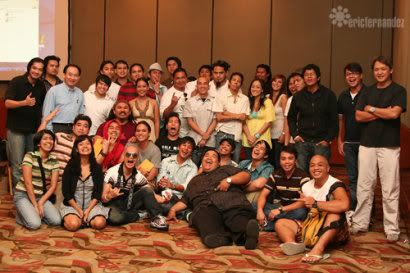 The IKON contestants: in this picture are Julianne, Skarlet, Vina Morales, members of The Dawn, Truefaith, Kjwan, Kapatid, and more
There's a lot more good stuff in there: Nina Sandejas' feature on styling rock stars, Jewel Regal's Rock Ed coverage, Margarita Gomez on her gig-going history, Betty Tianco's stage girlfriend confessions, Denise Mallabo's story of a music video extra, a whole lotta reviews, and more. And of course there's a massive photo archive with pix by Eric Fernandez, Richard Garcia, Nina Sandejas, Kidlat de Guia, and others... though am not too happy with the new Pulseparazzi interface. Anyway, maybe I should come up with another top 10 sometime. But for now am just glad to reread this stuff and pat myself -- and my former officemates -- on the back.
All pix by the amazing Eric Fernandez
.