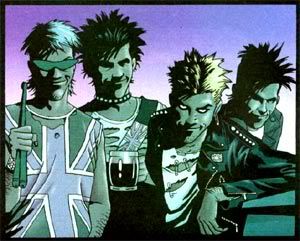 Keanu or no, the fact that
Constantine
is showing gives me a good excuse to wallow in old comics, and to post this image, from Hellblazer #153, page 2, of John Constantine in his punk rock days.
Punk rock days? Here's an explanatory quote from the brief biographical essay on Constantine, in Vertigo Secret Files: "Rebelling against his dysfunctional family life, Constantine ran away to London twice -- once in 1967, then again at the age of 17, when he eventually settled there. Instantly drawn to the emergent punk scene of the late seventies -- identifying via his working class Socialist background with its anti-establishment call-to-arms -- John even formed a New Wave band called Mucous Membrane, with an old school friend from Liverpool, Gary Lester."
It's not something one expects a mysterious magician-figure to do, to be quite honest, but that's why Constantine is unique among the other members of 'the trenchcoat brigade'. "I have an idea that most of the mystics in comics are generally older people, very austere, very proper, very middle class in a lot of ways," said Alan Moore, co-creator of Constantine (and
From Hell, Watchmen, V for Vendetta,
etc). "They are not at all functional on the street. It struck me that it might be interesting for once to do an almost blue-collar warlock. Somebody who was streetwise, working class and from a different background than the standard run of comic book mystics. Constantine started to grow out of that."
Dogstar cameo in
Constantine 2
, anyone? I thought not. ;p