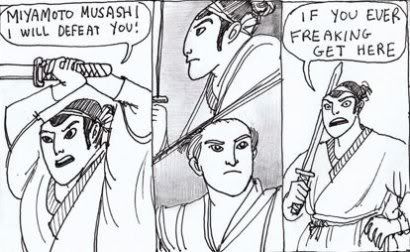 "God, why is Napoleon eating cookies so
funny?
" These, and many other questions you have never thought of, are addressed in an online collection of utterly hilarious, wonderfully drawn comics with subjects that range from family and friends and childhood to fishing and dancing and pooping. You must go to
katebeaton.com
now and thank me later after you laugh your ass off. (My favorite sections are "Maybe It's a Journal," "People and Places" and "Nonsense.") My thanks to
girl-wonder.org
, where I first read about Ms. Beaton and her comics.
Beaton has made a name for herself doing funny comics based on historical fact, and those are great, but my favorites are the little personal and/or nonsensical ones (see: the magnificent
Kate Beaton Stop Being So Hard On Yourself
), the stuff involving
writers
, and anything and everything to do with
Pope John Paul
.