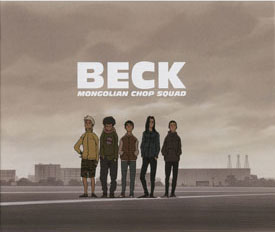 So I first watched -- and
wrote about
--
BECK: Mongolian Chop Squad
early last year. But Yvette just started watching the second half of the series recently, so it's been on my brain. I've got no time to go on a BECK marathon again, what with everything I have to do, but I have the DVD playing as I work. The awkwardly-delivered English bits (both sung and spoken) are still a problem, but the series is still an absorbing, affecting piece of work, and it's still one of my favorites.
I admit, I'm curious about the
Pinoy dubbed version
. Hey, Raimund Marasigan as Taira-kun! Has anyone watched this? Is it any good?
And by the way,
this
... this is just
wrong
.