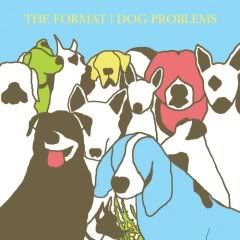 You can get Dog Problems, the second album by The Format, for free!
(Yeah, so what? you might say. I can get
all sorts
of albums for free through the internets. The difference is, this particular download is officially sanctioned and will not send you to jail or hell.)
That's right: just go
here
and one of the best albums of last year will be yours. I love these songs, particularly "She Doesn't Get It," "Dead End" and of course "Dog Problems." Offer only lasts 'til
JULY 16.
Here's an excerpt from
the PopMatters review
: "Horns abound, sugary Beatlesesque harmonies lace the songs, swelling strings kick in. In other words, it sounds like Disney on crack, and what's really surprising is that it doesn't crumble under all that feel-good weight. Ironically, it all sounds radio-ready in the most creative way imaginable."
Go go get it!