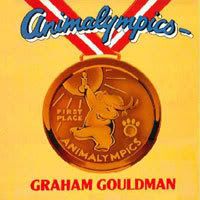 This is fun: Blender features
"Our Favorite Musicians' Favorite Bad Albums"
!
"Many of us will go to bat for that highly uncool and/or critically slammed record adorning our otherwise impeccable collection, and musicians are no different. We recently caught up with some of our favorite bands, producers and DJs to find out what awesomely bad albums make their hearts go tick and their feet go tap."
Oh man, A-ha's first two albums! I loved those. I might even still have the cassettes somewhere. "Manhattan Skyline," what a great song. And dear God,
Animalympics
! I can't believe anyone else even
remembers
that movie, and those songs. I was absolutely crazy about those songs as a kid. I managed to track down one or two through file-sharing -- I included one as a 'hidden track' on my October mix last year -- but I am a long way from assembling all the songs. If
anyone
has a copy of this, please let me know. :)
My favorite 'highly uncool' album? That's tough. I think half my CD collection is highly uncool. I own almost everything the Pet Shop Boys ever made, after all.