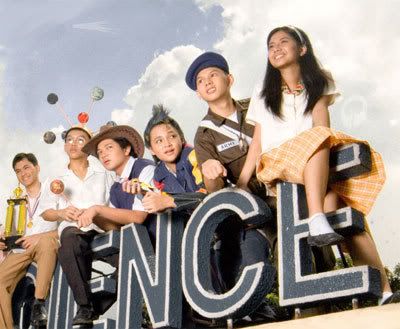 Watched
Pisay: The Movie
last Saturday, with, appropriately enough, my high school barkada, and our respective spouses/ girlfriends/ boyfriends. We had a blast. I didn't suffer nostalgia attacks as badly as I thought I would, and I think I can say with sufficient critical objectivity that it is a very good film indeed. Of course we convened in a nearby restaurant afterwards to talk about our Pisay days.
Got the soundtrack CD in the CCP Main Theatre lobby after the screening last Saturday. :) Here's the track listing:
01. Pisay Intro Theme/Act One: Rom and Wena's Theme
02. Lingunin Mo Sana Ako - Squid9
03. Poor Li'l Rich Girl Grown Up - Mcoy Fundales
04. Act Two: Mat's Theme
05. Egis, Er'p! - Lourd de Veyra and Raimund Marasigan
06. Love is in My Hair - Imago
07. Act Three: Andy and Liway's Theme
08. Ang Puso Kong Musmos - Ebe Dancel
09. Act Four: Halley's Comet
10. Pisay Graduation Theme/PSHS Hymn
11. Treasured Memories - Isha
Just started listening to it now. So far my favorite tracks are "Egis, Er'p," "Love is in My Hair," "Ang Puso Kong Musmos" and the little instrumental bits.
I never thought I would willingly pay money for a CD with the PSHS Hymn on it, by the way. ;p
Ran a search for blog entries on the movie and
this
came up. (How perfect is it that her blog's name is "If I Were a Subatomic Particle"? Ah, Pisay people.)
"Hindi ko maintindihan dati kung bakit hindi ko na-feel ang pagkawala ng Pisay. Ngaun alam ko na kung bakit. Hindi ko naramdamang binitawan ko ang Pisay kasi HINDI ko talaga binitawan. Nasakin pa rin ang Pisay. Ako pa rin si Cheska na tumawa, umiyak, nasaktan, natuto, lumaban, at nagtagumpay sa Pisay."
Well put. The rest of the blog entry is very much worth reading too.
Here's the schedule of remaining screenings (got this from
The Mighty Dacs page
):
24 Jul/Tue 09:00 PM Venue 1 - CCP Main Theatre
25 Jul/Wed 09:00 PM Venue 2 - CCP Little Theatre
26 Jul/Thu 06:15 PM Venue 5 - CCP Tanghalang Huseng Batute
27 Jul/Fri 10:00 AM Venue 1 - CCP Main Theatre
28 Jul/Sat 03:30 PM Venue 2 - CCP Little Theatre
For more info, bug the CCP Box Office at 832-3704 and Ticketworld at 891-9999. The navigation of the Cinemalaya page is pretty screwed up, but the Pisay page is
here
.