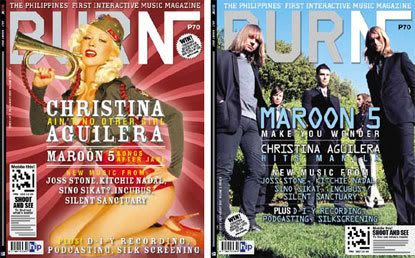 Sino Sikat, Kitchie Nadal, Up dharma Down, and lots lots more: the July-August 2007 edition of
BURN
is available now, and you should get one! Features and reviews and fun stuff galore, and all for only Php70. That's right. Less than your latte cost.
Am particularly proud of this issue's Reviews section: totally uncompromising, often funny, sometimes savage stuff. Witness JP Ong fall asleep to Brownman Revival! Watch Kristine Lim eviscerate Join the Club with the help of her little brother! See Bernie Sim bitch-slap Gwen Stefani! Gape as Aldus Santos stops Hinder! And wave your hands in the air as Erwin Romulo stomps on Mig Ayesa!
It's not all negative, of course, and I don't mean to sound like I'm cackling like a cartoon villain while twirling a mustache. As always, it's the genuinely good albums -- and the subsequent sincerely positive reviews -- that are the reason I love my job. JP Ong surprises himself by liking Pernilla Andersson. Kristine Lim finds Regina Spektor quirky and charming. Eric Melendez loves Noel Cabangon's new album about love. Editor-in-Chief Conch Concio grooves to the Cold War Kids. And Nick Azarcon encourages drunk driving while listening to the Kaiser Chiefs. Make sure your insurance is paid up, Nick!