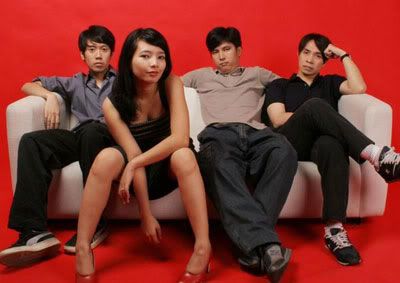 Narda lead singer Katwo lookin' good as always, while the boys get their sulk on
There are a couple of gigs this Saturday, April 8, that look promising. The 18th installment of Revolver has a killer lineup: Isha, Itchyworms, Pedicab, Sino Sikat, and The Bitter Pill (yay!), plus a couple more acts. It's at
SaGuijo
though, and while I do like SaGuijo, it's kind of far from where I live, and transpo to and from is always a bother. On the other hand, there's a gig that same night at Big Sky Mind on E. Rodriguez, which will feature -- among "many others" -- Narda, a band that I haven't seen in far too long.
Narda was one of the first bands I wrote about when I joined the staff of PULP magazine; I had seen their EPs on sale at the Sarabia Optical in the UP Shopping Center before, but it was when I covered a gig at Ateneo that I first saw them perform live and was hooked. Here's the first draft of a short feature I wrote about them, back in 2003:
Narda's members claim a variety of influences. Katwo Librando, the lead singer, likes bossa nova. Ed Ibarra, guitarist, is a grunge fan. Wincy Ong, bassist, listens to the mods, the punks -- "everything European". JV Javier, guitarist, likes the blues and heavy metal. Happily, instead of forming an incomprehensible and unlistenable mess, these elements have come together in catchy, stick-in-your-head compositions. It is worthwhile to note that drummer Ryan Villena's favored act, the Beatles, is also the entire band's common denominator.

Ryan, one of the band's main songwriters and a veteran of various local indie acts, formed the band Narda during August of last year, with three objectives in mind. One, to have fun; two, to perform and hone original material; and three, to help the community. The first two objectives are common enough for any rock band. The third needs some explanation. "Our label, Ponkan Music, it's a non-profit organization," says Ryan. "We use rock n' roll music to promote good causes, and to give money to charitable institutions." The first beneficiary of their cause is Tulong Dunong. "It's this scholarship program for deserving public school students." JV sums everything up: "We record our music, we help people -- everybody's happy!"

Of course, as Wincy (who is the band's other main songwriter) points out, they make music that people would want to buy and listen to anyway -- it's not like the charity factor is the only, or even the main, draw. He stresses that these are really songs -- writer-based, lyrics-based songs, as opposed to glorified jamming sessions.

Anyone watching one of their gigs -- or listening to their recordings -- would agree. Songs like 'In the Afternoon' and 'Santong Paspasan' are full of the kind of straightforward pop-song goodness that is all too rare nowadays. The sound on their two most recent EPs is still a bit raw, befitting its DIY roots, and yet rich too, with some charming trumpet flourishes on Suwerte, and the sweet strains of a viola, not to mention the spiralling guitar sound of their mysterious guest, 'Gaddi Shankar', on Burador. At P50 and P30 each, respectively, you'd be hard pressed to get better musical value for your money. (The EPs can be found at their gigs, or at Sarabia Optical at the UP Diliman Shopping Center).

The band name, as you may have guessed, comes from the all-too-human secret identity of local komiks superheroine Darna. "Naaliw kasi ako sa character ni Narda, kasi siya yung hindi Darna, kung baga, siya yung tao," says Ryan. He points out the symbolism involved. "Lahat tayo, pilay, at gusto nating lumipad."

In just a little over half a year, Narda have played a great number of gigs, released three 4-song EPs (with another one due this May), gotten airplay on NU, and filmed two videos -- not bad at all for a bunch of mere humans.
Judging from the photo above -- a recent addition to Katwo's Friendster page -- only two faces I'm familiar with remain in Narda: Ryan, on the far right, and Katwo herself. (Ed left before the fourth EP, and guitarists JV and Nico Africa "amicably resigned" last July.) The last time I saw the band perform, at one of those Terno gigs, Wincy was still with them. Their sound had already changed by then; I wonder what they sound like now.