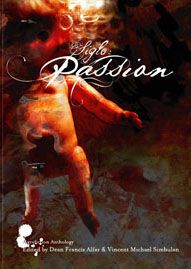 There's a
review
of
Siglo: Passion
over at inq7.net, by Ruel de Vera. Here's an excerpt:
Twelve stories array themselves in parade as Passion's primary arsenal, each tackling a different decade and location. As always, the stories intend to show off the unique attributes of the writers and artists. Passion bookends the stories with Suarez's illustrated poems and a sensational cover by Illenberger, all in all a gorgeous package.

Solid work abounds from all around. There is a dark, dark undercurrent in Passion as the storytelling here is quite mature and very sophisticated. Manalo's tale, combined with Drilon's graphic gambits, generates a creepy vibe that is taken even further by Vergara's spooky, meaningful anti-romance. Alanguilan's ghost story is harrowing in its stillness.

Ibardolaza's deceptively bucolic pattern unhinges, because of how it hides and then unleashes the truth in Groyon's story. Go-Alfar's story uses the artists' strengths to craft a lushly rendered journey to unexpected and bittersweet redemption. On the other tangent, Simbulan and Atienza's cozy piece makes wise use of a recipe passed down through the generations.

The book's most hypnotic, most arresting piece is "Manila 2019." In Katigbak's reality-bending exploration through what amounts as romance and obsession at an age where the soul hides behind the oh-so-aptly chosen avatar.

How can you not get into a story that has an oversized guinea pig named Briggs walking around in a dystopian Philippines? It's a well-written parallel to what's happening among the whiz kids of today and what may happen still.
Naturally, I was grinning from ear to ear after I read that. And no, I do not have a voodoo doll made of wax and bits of hair from Ruel de Vera, nor have I ever given him a substantial amount of money. (For that matter, I've never
had
a substantial amount of money to give.)
By the way, for anyone who has read, or may read, my contribution to
Passion
-- slight error: the name on the first door is supposed to be "Vincent," same as on the last. Speaking of names, I think I took almost all the character-names from people in the local music scene (Rann, Diego, Briggs, etc.) -- I hope they don't mind.
My favorite stories in
Passion
, btw, are "Malacanang 1968" by Quark Henares, Antonio Abad and Ma-an Asuncion (creepy and original), "Makati 1988" by Jamie Bautista and Shelly Soneja (witty and engaging), and "Baguio 1992" by Cyan Abad, Elbert Or and Jamie Bautista (heartfelt and heart-wrenching).