I got the April-June 2006 issue of UK Link in the mail the other day; it's a little magazine that
British Council Philippines
produces to get the word out about cultural goings-on like The Bridport Prize and
Mon David winning the grand prize
in the world finals of the London International Jazz Competition for Vocalists. This issue also has a short piece by Mishka Adams about settling in at her flat in North London ("It's the first time I found out that you need a TV license just to watch TV! Ye gads!") Looks like she'll be wowing new audiences with her talents pretty soon. "We'll be playing in Spain (we've sold 500 CDs there -- woo hoo!) and France in May which is exciting, but we'll do some local dates before that so the band can gel."
Something else I found interesting: a theater group called Peepolykus is coming here, to perform a set of some of my favorite comedic short plays, apparently. "For the Philippine tour scheduled on June 30-July 5, Peepolykus will present
All in the Timing
, a series of one-act comedies portraying the joyfully absurd world of absurdity where chimps attempt to write Shakespeare, faux pas can be edited from conversations, and new languages are improvised." The article is somewhat poorly written (the joyfully absurd world of absurdity?) and quite badly edited, with a paragraph beginning in mid-sentence, but the thing that really bugs me about it is that it gives the impression that
All in the Timing
is by Peepolykus themselves. Unless by some cosmic coincidence there's more than one set of short plays with the same name involving chimps, Shakespeare, conversational do-overs, and a Universal Language, what they're talking about is the work of one
David Ives
, who is not mentioned anywhere in the article.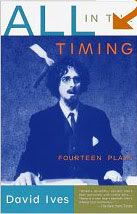 I ordered my copy of
All in the Timing: Fourteen Plays
years ago, in the days before Amazon, from Scribe and Brewer (remember Scribe and Brewer in Shangri-La Mall? And the pizza place next to it? Both gone now, sigh). I remember performing -- for lack of a better word -- "Philip Glass Buys a Loaf of Bread" with a bunch of college friends in
Waya
's apartment. Reading the play out loud like that makes you feel like you are being hypnotized and driven crazy, at the same time.
According to UK Link, "
All in the Timing
goes onstage for matinee and evening performances at Equitable PCIBank's Francisco Santiago Hall on July 1, with a subsequent show at Liceo de Cagayan's Rodelsa Hall on July 5. For ticket enquiries, please call 914-1011 to 14." "Words Words Words," "Sure Thing" and "The Universal Language" are all highly imaginative, entertaining works; they're a blast to read, and it would be nice to finally see them performed as well.
"Ironically, my first date was with a girl whose last name was Kafka, and I took her to see
The Sound of Music
. God knows how that experience warped me, but several therapists have turned me down for treatment on the basis of it." --
David Ives