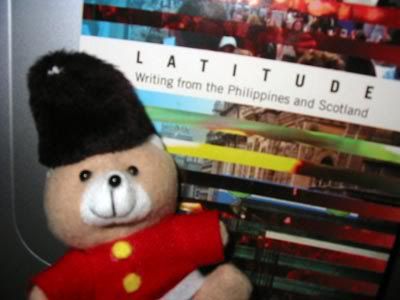 So Yvette and I went to the launch of
Latitude
last night, and were given these cute little stuffed bears in Royal Guard uniforms -- free! -- at the entrance. (Now don't you wish you had gone?) There were Actual Scottish People there, as well as the head honchos of Anvil and the British Council, not to mention fellow contributors Dean Alfar, Butch Dalisay, Menchu Aquino Sarmiento, and of course co-editor Sarge Lacuesta. We sat at a table with Sarge, and Menchu, who wrote one of my favorite books of 2003 --
Daisy Nueve
. There was Johnnie Walker aplenty, and a great performance by Cynthia Alexander, whose husband is apparently a Scotsman. There was also a quiz portion, where people mostly failed to list seven James Bond movies starring Sean Connery. There were readings by the authors, and then they served us a dish that was allegedly a combination of haggis and sisig. I say "allegedly" because I didn't taste it. Yvette said it was okay though.
All in all, a pretty fun night. Thanks to Sarge for recruiting me for the book, and thanks to the people who dropped by because of me: Avel, Emon, Hagee, JB, Kidlat, Perce, and of course Yvette.
As for our little bears, we decided to give them quintesentially British names, so we named them after the most quintessentially British words we know. So Yvette's bear is named Wanker, and my bear's name is Bollocks.