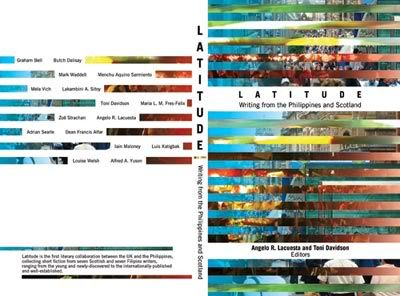 They're launching
Latitude
later -- edited by Sarge Lacuesta and Toni Davidson, it's "the first literary collaboration between the UK and the Philippines, collecting short fiction from seven Scottish and seven Filipino writers." (The cover image above is from Dean's
blog
.) I'm one of the seven Filipino writers, though you wouldn't know it to look at this
press release
. Seriously, people, if you have seven writers and you list four of them, the other three are going to feel a little homicidal. Or suicidal. I haven't decided yet.
The story that I submitted for this collection is a rather old one, but it's one of the stories I'm proudest of: "Subterrania." If I thought of my story collections as mix tapes, this is the one I would put in the 1st or 2nd slot, something to grab the reader early on.
Anyway! I was actually there when the seeds of this anthology were sown. Sarge, Ruel de Vera, Bing Sitoy and I were asked to deliver lectures at a literary conference organized by the British Council a few years ago; that was where we met poet Menna Elfyn, and Toni Davidson, who made an impression immediately with his deadpan, twisted sense of humor. Although now that I think of it, there's a possibility that when he asked us where he might rent some smooth young Filipino boys, we just
assumed
he was joking.
Sarge and Toni kept in touch; Toni dropped by again last year, and I remember a whole bunch of us writers gathering at British Council Philippines Director Dr. Gill Westaway's house, and getting tipsy, reading from our works, and just generally making asses of ourselves. A photo of our group ran in one of those UK Link magazines, and you can clearly see the telltale signs of inebriation in our reddened faces, as well as the complete and baffling absence of pants.
Am dropping by later, though I'll probably have to leave fairly early. Here's to the Scots, here's to us Flips, and here's to stories various and startling.