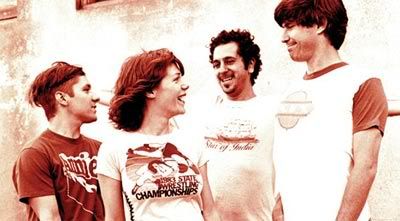 "Hey Jenny, weren't you in that crappy Fred Savage flick about video games?"
"Ha ha ha, yes I was! Go to hell."
Any asshole can open up a museum
Put all of the things he loves on display
so everyone could see them
The house, a car, a thoughtful wife
ordinary moments in his ordinary life
-- from "It's a Hit"
So I know
this album
came out almost a year ago, but hey, sometimes it takes me a while to get around to finding out about things, or appreciating things, or just plain doing things, as people who know me even in passing will attest. Anyway:
Rilo Kiley
. Really good stuff. Go to their
official page
and listen to "Portions For Foxes" (
"I'm bad news, baby I'm bad news..."
) and "Does He Love You?" and be pleasantly diverted, perhaps even utterly smitten. Wonderfully catchy music, and
great lyrics
.
Get a real job
Keep the wind to your back
and the sun on your face
All the immediate unknowns are better
than knowing this tired and lonely fate.
-- from "Does He Love You?"
"Pure pop for grown-ups," as PopMatters
describes it
. Have downloaded a handful of songs from here and
there
, but would really like to get their albums. Here's hoping one or more of them were released locally.