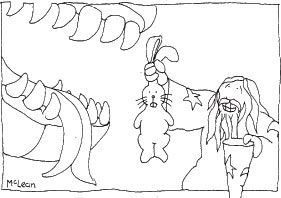 Yeah, it's that time of the month again, when I have to chain myself up in the basement before the Transformation overtakes me and I cannot be held responsible for the ensuing bloodshed. Either that, or it's time for my column to come out in the
Manila Bulletin
-- I get confused sometimes. On the stands now: The King of Nothing to Do, Episode 3! This time around, it's about geekhood. (No chickens were harmed in the writing of this column).
Discrimination goes both ways, though: music geeks, for example, usually hate it when obscure bands they love become popular, or even semi-popular. Tolkien fans will pull pained expressions and rethink their opinion of you as a human being if you tell them you only watched the movies and never read the books. God help you if you have the insane compulsion to pretend to be a geek about something you have only a passing interest in: real geeks can detect you a mile away. This is less a matter of geek snobbery than a matter of appreciation, though. In other words, if you're a pretender, you won't inspire real derision -- just pity.

Geekhood is not like a fraternity that requires an initiation, or a course that acts you to pass a test: in fact, if you're making a special effort to learn facts and figures, you're, well, faking it. The effort is barely noticed by the true geek, as are the expenses (because if a geek stopped to think about expenses, honestly, he or she would get a little depressed)—and the accumulated trivia is like a side-effect, a badge of that love Weiss wrote about: that "abiding, obsessive, self-effacing, even self-destroying love."