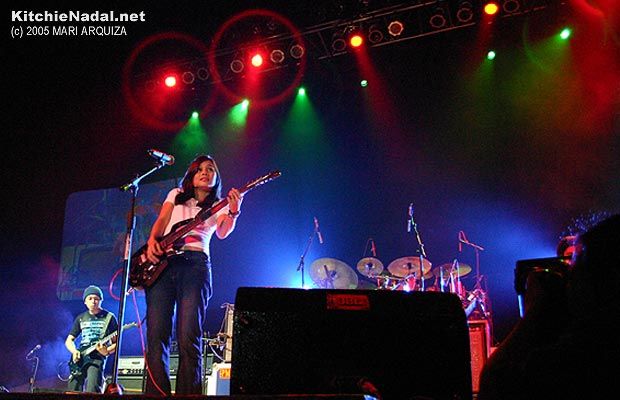 [Photo by Mari Arquiza, from
kitchienadal.net
]
So last April 16, Yvette and I went to that big Kitchie Nadal/Rivermaya concert at the Araneta Coliseum. I'm not sure what the capacity of the venue is, but whatever it was, those two acts filled it, all the way up to the lousy seats in the top rows where you would need binoculars to figure out who was performing. About 10,000 people is my conservative estimate, probably a lot more. Here's an excerpt from my account of the concert, which should be out in the next issue of
MTV Ink
:
For "Run", Kitchie set down her guitar, and, thus unfettered, swaggered up and down the stage while singing, much to the delight of her fans. "I love you Kitchie!" the guy next to us screamed, practically into his girlfriend's ear. It was far from the first or the last time such sentiments were expressed that night. A trio of burly, backwards-baseball-cap-wearing men sitting in the row in front of us would do the macho equivalent of schoolgirl giggling every time Kitchie seemed to be looking in our direction: elbowing each other vigorously, back-slapping, emitting deep yet obviously kilig laughter.
In other Kitchie-centric news, she's also on the cover of
Seventeen
this month. (Inside: "expert guy advice" from VJs KC, Marc and John Joe! The mind boggles).
Non-Kitchie department: I ran a Google search for info on Sugarfree. Since I'm not sure it's ever been definitely settled whether the band's name is "Sugar Free" (the original spelling) or "Sugarfree" (the more widely-used form), I ran a search for "Ebe Dancel" instead, which turned up
this
piece on Cambio. It's fun to read because of the way the writer seems to reinvent the language. For example:
From the mother band Eraserheads, a new breed of alternative tunes swept Filipino music hardcores. The succession of their generously-accepted records journeyed listeners to a random circle of musical accolades that circle from ballad, to punk rock, to pop.
Near the end, it has the feel of English translated into Japanese and then back again:
With the launch of their debut album Derby Light, alternative lovers can expect authentic filipino vibes wrapped up in distinct instrumentation and precise use of gadgets. Lyrics are truly attributed to typical Pinoy lifestyle. It's like putting each of our lives in music and beat.
The inclusion of Cambio's press release in full -- written by Myrene Academia -- just serves to underscore the difference between direct, skillfully-executed and informative writing about music, and, well, its opposite. Take notes, writing students!