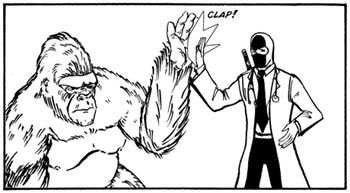 Ever wonder what a comic book starring a doctor
who is also a ninja
might be like? If so, please seek professional psychiatric help. And then go and read
The Adventures of Dr. McNinja
, which actually lives up to this fantastic premise. (It also has giant lumberjacks, pirates, Ronald McDonald, and a gorilla receptionist named Judy).
"When two ninja engage in battle, not a word is spoken. There is no room for banter. Perfect focus must be maintained. Every attack and parry is plotted ten steps in advance. Like a silent, deadly game of battleship. No, not chess. Battleship. Chess is a little too...
rooky, pawny
for my tastes."
And now I leave you with another quote, this time from
Your Band Sucks
: "What Big Idea have I stumbled upon this week, you ask? First of all, fuck you. I don't
stumble upon
anything, I use my legendary intellect to devise amazing ideas, and then I present them to you via my unsurpassed writing ability. Except for this idea, which I pretty much stumbled upon."