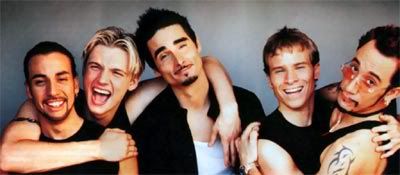 Don't they look so happy and gay? Not that there's anything wrong with that.
Five hours after the fact, and my ears are still ringing with the ecstatic screams of thousands of young men and women. But enough about that, let's talk about the
Backstreet Boys concert
at the Araneta Coliseum instead. Yes, I was there. No, I would normally not have gone, but I happen to love my girlfriend, who happens to love the Backstreet Boys. Yes, I did end up enjoying myself. No, I did not scream like a wounded horse, not even when they tapped their chests and pointed at the crowd. Yes, this is the first concert by a foreign artist I've gone to since -- wow, I can't even remember. Does Mig Ayesa count?
Anyway, I leave you with this quote uttered by one of
Granta's Best Young British Novelists
:
"Isn't that the song about anal sex?" --
Dan Rhodes, referring to "I Want it That Way" by the Backstreet Boys
(Check out
Dan's site
! It's funny).
*Headline stolen from -- where else --
The Onion