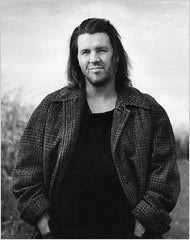 Holy crap, David Foster Wallace
just killed himself.
More on the author
here.
Some quotes from DFW.
"Fiction-writing's lonely in a way most people misunderstand. It's yourself you have to be estranged from, really, to work."
"I had a teacher I liked who used to say good fiction's job was to comfort the disturbed and disturb the comfortable."
"I 've found the really tricky discipline to writing is trying to play without getting overcome by insecurity or vanity or ego."
"The problem is that once the rules of art are debunked, and once the unpleasant realities the irony diagnoses are revealed and diagnosed, "then" what do we do?"
"...To be willing to sort of die in order to move the reader, somehow. Even now I'm scared about how sappy this'll look in print, saying this."