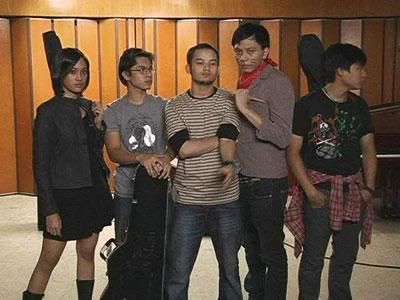 So I've plugged
Rakista
, the new comedy on TV5 about a group of college kids who form a band, on my music column and on my Facebook status updates. (Fourth episode airs
tonight
, September 4, Thursday, 7PM on channel 5!) Now you can read an entire article -- written by Philbert Dy -- on the show. Some excerpts:
"First, you might notice that the voice of the narrator is Lourd de Veyra of the Radioactive Sago project, which is insanely cool. Second, you might start to get a whiff of a twisted sense of humor that has never been present in local television, one that's somewhat self-aware, and ready to poke fun at all the tropes of the genre. And lastly, you get the strange feeling that the inmates are running the prison, that for once, the creative people have been given free rein over what they want to put on screen, without interference from the station.
"The end result is something part John Hughes movie, part
The Adventures of Pete and Pete
, a little bit of Joss Whedon, and all Pinoy. It's a striking alternative to what's usually offered to young people on television."
The show was created by quirky Quark Henares and dandy Diego Castillo, and features a wonderfully talented/demented array of directors and writers, including a certain (ahem) Yvette Tan. I got to sit in on a couple of meetings and co-write episode 3 (which aired last week) with Yvette, and I can attest to the fun, freewheeling nature of the work behind the scenes, which of course doesn't mean that these people don't work their asses off.
Philbert goes on to say, about the show: "We follow these characters as they go through the ups and downs of college life, band life, and life altogether. Every episode is a little bit different. The pilot feels most like a school dramedy, something akin to
Fast Times at Ridgemont High
. [...] The fourth [episode] is completely off the rails, following Sven as he tries to become part of the Cubao art scene. At one point, the episode becomes a heist flick, before turning into a zombie freakout." (Or, as
Rakista
writer Ramon de Veyra puts it, the episode is "utterly batshit crazy and works as a complete stand-alone, practically.")
Read the whole article on Click the City,
here
. And DO NOT miss the show tonight! Yeah boyee.