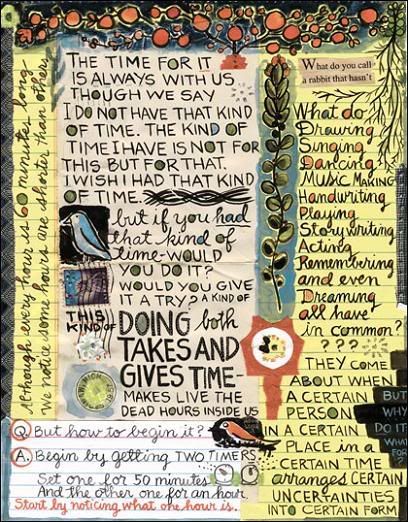 Q:
What is an idea made of?
A:
Of future, past, and also meanwhile.
Will be on the lookout for this new book by Lynda Barry:
What It Is
. Vulture describes it as a "memoir-as-master-class, a gorgeously illustrated guide to creativity and the power of images. Part collage, part autobiography, part inspirational lesson."
They have a
6-page excerpt
up and it is great. It will have you thinking and reminiscing while you admire the art. (That stuff about the dead kingdom just
gets
to me.) More previews and info
here
and
here
and
here
. The publisher put up a 13-page PDF
here
. All of these excerpts online taken together give one a pretty clear idea of what the book is like. And it seems like it is well worth the search.
(Fun fact: Lynda Barry is one-quarter Filipina and spent at least one summer here, which she recounted in her book
One Hundred Demons
.)