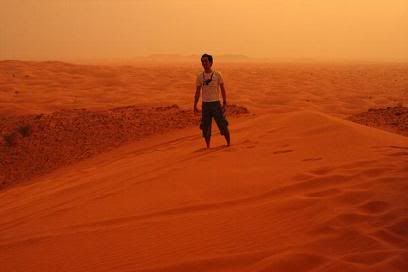 When Rico Blanco was wandering in the desert, a vision came to him: a glowing kitchen sink, floating in mid-air. "Heed me, Rico," it said. "I am the only thing that you will not throw into your next song."
When I was at the
Imagine
launch, I heard that Rico Blanco, former lead singer of Rivermaya, had recorded a new song, and that it was some kind of musical Frankenstein's monster, some freakish creation stitched together from the corpses of different genres and jolted to life by electricity. I admit to being intrigued, so when I saw the MySpace link on Mari A's blog I checked it out right away.
The song, "Yugto," sounds like a collision of Rivermaya, Kula Shaker, Big Country, Queen, and, um, Hagibis, with some nameless 80s hair metal band thrown in near the end. Oh, and some horn blasts and a spoken-whispered bit, too. It's pretty crazy, though not in a genuinely transgressive asylum-ready way, more like, "What are you --
crazy?!
" Well, you can't say it's not ambitious.
Listen for yourself
here
.