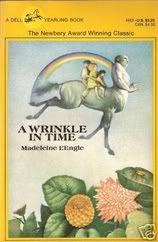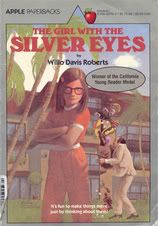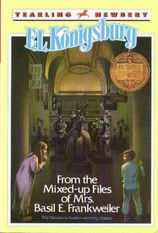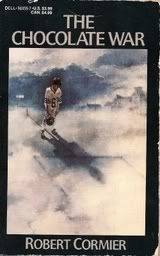 Thank you to
wysgal
, from whose blog I found out about
Fine Lines
: "the Friday feature in which we give a sentimental, sometimes-critical, far more wrinkled look at the children's and YA books we loved in our youth." That's YA as in Young Adult fiction -- I had such a blast looking through the titles, recalling preteen days of haunting the shelves of Natio and Bookmark.
A Wrinkle in Time
and
The Girl With the Silver Eyes
were particular favorites, so I was happy to see them featured. And Lizzie Skurnick's opening for her Wrinkle in Time reread is priceless:
"If I had my way, none of us would have to read this review at all. Instead, we'd join hands, hear a great dark thunderclap, and be whisked off to a rambling house in the country, where we'd view odd things bubbling in a lab with a stone floor, then eat limburger-and-cream-cheese sandwiches while swinging our legs at the kitchen table. We'd sidestep for a moment onto a planet inhabited by gentle gray creatures with dents for eyes, then be inserted into some mitochondria. We'd battle for the soul of Madoc/Maddox, and eat small crayfish with our lesbian kind-of aunt who insisted on calling us our full name (Polyhymnia). We'd hop on a freighter and solve a mystery, then go to boarding school in Switzerland. We would make a brief detour on the Upper West Side by way of Portugal, and be concerned with cell regeneration in starfish. We'd be smacked on the ass by a dolphin. Most important, whatever happened, we'd know we could get through it—because we are creatures that can love. GOD, HOW MUCH DOES IT KILL ME THAT WE CAN'T DO THOSE THINGS, ESPECIALLY THE DOLPHIN PART!"
Go, read, remember. There seems to be something wrong with their tags sometimes though -- keep trying. (Fran, I think you especially would love Fine Lines. Heck, I can imagine you
writing
it.)
I miss the bookstores of my youth (funny, a friend was just telling me earlier today about how when she was a child, her parents would take her on Special Trips to National Bookstore Quezon Avenue, as if it were a Disneyland of sorts, which it was, in a way). I know that's just the nostalgia talking, though -- the YA sections in bookstores now are more vast and colorful and captivating than anything I remember. And on top of all these flashy new books (he said geriatrically), all the old stuff is still there, the Judy Blumes and Madeleine L'Engles and Louis Sachars and Jerry Spinellis and Katherine Patersons and all, old friends who never really get old.