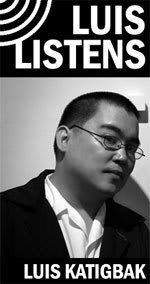 There's this word I learned from
Q magazine
—"chuffed." I gather that it means delighted, glad, pleased as punch. If so, then I am chuffed to inform alla youse that today marks the first installment of my brand new column in the Manila Bulletin:
Luis Listens
. Check it out, it's on page G-4, in the spiffy i section. Here's the blurb at the bottom:
"LUIS LISTENS is a new column devoted to music. Luis was a staffer on PULP and MTV Ink, the first Editor-in-Chief of the online music magazine Pulse.ph, and is the co-founder of BURN Magazine."
In this first installment, I react to last week's NU 107 Rock Awards: "Last November 30, I attended the 14th installment of the annual NU 107 Rock Awards, at the World Trade Center in Pasay City. I always enjoy going to the Rock Awards—at the very least, there are always a few great performances, some laughs, lots of eye candy, and if the audience is lucky, one or two unscripted surprises, like the time Rosanna Roces flashed her mammarian assets while presenting an award, or the time the audience almost lynched Diether Ocampo for calling them jologs. At last year's awards, there was an air of excitement, of near-giddiness—not just because NU had the good sense to make me one of the judges, but because bands were still riding high on the resurgence of rock, labels were still making good money on CD sales, and fans were enjoying releases by well-known favorites like Sandwich as well as fantastic new acts like Up dharma Down. [...] So, did this year's awards ceremony measure up?"
I also plug
Rock the Riles
, and the launch of
The Purplechickens' second album
, next week. Oh, and I crack some cheap jokes and threaten people with violence, but that goes without saying.