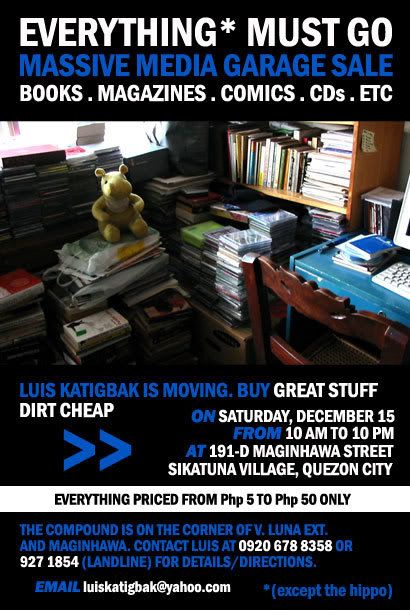 Hello all! As you know, I'm going to be moving out of my home of some eleven years this December, to a new apartment. As much as I'd like to keep all of my stuff, I really do need to lose some of it. (Also, every little bit helps when it comes to making money for rent.) So:
GARAGE SALE!
Woo hoo! I'll be selling books, magazines, CDs, comics and some other stuff, really cheap (everything's going to be Php 5. up, with an upper limit of about Php 50). Hope you all can drop by! It'll be on:
This SATURDAY, DECEMBER 15, from 10 AM to 10 PM,
at 191-D MAGINHAWA STREET, SIKATUNA VILLAGE, QUEZON CITY
The place is in a compound with a green gate, right on the corner of Maginhawa and V. Luna Extension. Easy to find. You can contact me at 0920 678 8358 or 927 1854 (landline) for details/ directions. You can also email me at luiskatigbak at yahoo dot com.