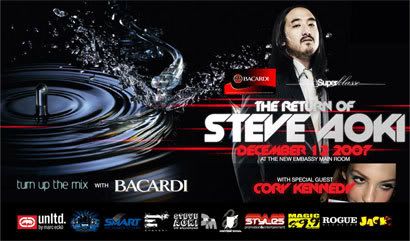 I got to meet and interview
DJ Steve Aoki
yesterday and it was the most fun I've had with an interview in a while. The man has such an appetite and enthusiasm for music -- it's really inspiring. Nothing less than I would expect from the founder of Dim Mak records, who broke Bloc Party, Pretty Girls Make Graves, and tons of other acts. We talked about the Manila crowd (this is his second time here), the changes in the global music industry, the first record he ever bought... Then I broke out the showbiz fanboy questions and asked him about Uffie (oh man,
Uffie!
), Lindsay Lohan, and of course his actress/ model sister, Devon. We talked about Chromeo and Kid Sister and Cat Stevens and all these other artists. At one point he got so excited talking about music he was waving his arms wildly, conducting an imaginary electronic orchestra. It was
great
. Applause for
Styles
, for bringing him here again!