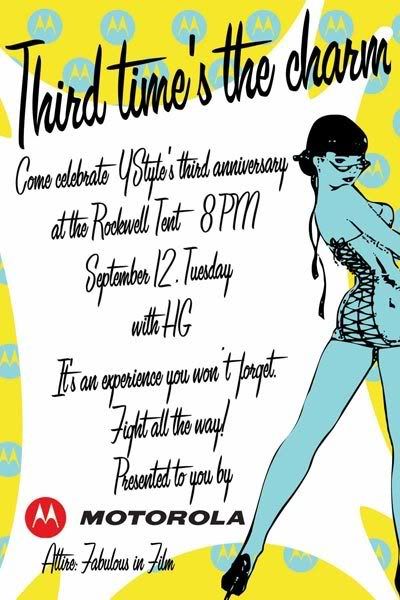 There's this thing at the Rockwell tent tonight at 8 PM--
YStyle's Third Anniversary.
There'll be a fashion show with Ivar Aseron, Yvonne Quisumbing-Romulo and Patty Eustaquio, and the whole thing's being done "in collaboration with HG, Furball and Sweetspot."
The music and visuals for the event are going to be interesting, I hear. Apparently, "25 musicians in an orchestra pit, 5 laptops, Wahijuara, the Radioactive Sago Project, strings and wind from the UP College of Music, and a human beatbox" will be involved. Someone will be mixing cinematic visuals in real time to the music -- I'm not sure exactly how that's going to look just yet, but it sounds good -- and it'll be conducted by Lourd de Veyra, with music written by Malek Lopez.
"Come in cinema-inspired outfits, and bring yer cameras and friends!" the text from HG honcho Erwin said. See ya there.