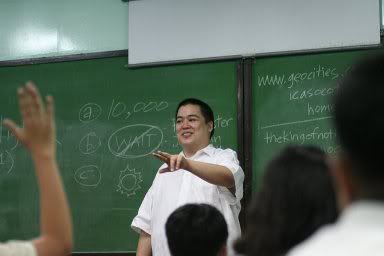 "Okay, who here has read my book? All the rest of you, get the hell out of my classroom." Photo by
Chris Lagman
. Thanks Chris!
Yesterday I took a leave from work to lecture on Creative Writing at this
Alternative Classroom Learning Experience
thing (ACLE for short) at my alma mater,
Philippine Science High School
. I had forgotten how scary-smart and versatile Pisay kids can be; despite the fact that they're supposed to be total science geeks, they often display an astonishing aptitude for the arts. Two budding anthology editors were planning a compilation of essays on high school dorm life by the end of the session (and asking me about possible publishers).
A quick writing exercise -- write the opening paragraph of a story based on one of two beginnings (1. "I don't even know why I'm telling you this" and 2. "When I woke up this morning, I knew something was wrong") -- yielded a wide variety of imaginative responses. And unlike most high school classes I've lectured to, the Pisay kids were actually eager to read their work aloud. (Well, most of them, anyway.)
It was fun talking informally to the students after the lecture; some of them seem more like college students in their self-possession and awareness (I take it as a good sign when people can regard their writing with enough detachment to acknowledge that it tends to be "emo"). It was also great when Yvette and I hung out with the other lecturers afterwards -- most of them were former batchmates of mine, so it was like a mini-reunion. Excellent food was provided by the
Regali Kitchen
(hi Jabes!). Lecturer Gang Badoy feeling up bahag-clad lecturer Kidlat Tahimik was another highlight of the afternoon.
For those who are wondering how I ended up with a degree in English after having studied in Pisay, well -- I studied BS Mathematics for
two years
before I caved in and shifted. (Other former Pisay students who betrayed the school by turning their backs on science include
Jose Dalisay
,
Jessica Zafra
and
Allan Popa
.)