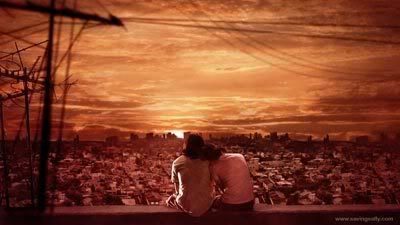 Here's something I'm looking forward to:
Saving Sally
, "a Tiny Independent Film About a Girl, a Boy, a Few Monsters and Some Ice Cream." (Thanks to
Budjette
for clueing us in.) "This project is a blend of live actors, illustrations, 3-D characters and motion graphics. It was shot entirely on a blue screen and is currently undergoing heavy postproduction with the use of regular mac & pc desktops. The end result is a visually delightful moving picture book."
"Visually delightful" may be an understatement, judging from the
trailer
. (Gotta love those little robots!) The
movie stills
make very nice wallpaper, btw. ;) That it looks so good will come as no surprise to those familiar with the work of Avid Liongoren -- his excellent
illustrations
and
videos
have always had an eye-catching, childlike-yet-twisted quality. (Read
The Boy Who Liked Bear
to get an idea of the state of his brain.)
Avid's apparently using some techniques he's employed before, as in the
video he did for Kamikazee
, but this is the first time he's doing something on this full feature-length scale, which is exciting. I only hope it doesn't turn out like
MirrorMask
, which delivered in terms of concepts, visuals, and casting, but in the end fell somewhat flat in terms of story and characterization (that last bit was somewhat painful for me to type; as anyone who knows me knows, I am a huge
Neil Gaiman
fan. Still, it's true).
So here's to Avid's labor of love. May it turn out to be wonderful (and robotful and monsterful).