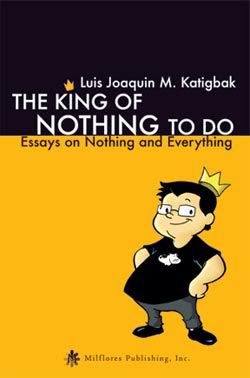 Haven't blogged in a while -- chalk that up to being busy busy both with
BURN
magazine and with my *new* job (more on that later) -- but of course I just had to tell everyone to
go out and get a copy of my new book
,
The King of Nothing to Do
, which has finally rolled off the presses, yay!
It will eventually be sold in National Bookstore and Powerbooks, but RIGHT NOW it's available at the
UP Press
bookstore in UP Diliman, and at the UP Press booth at the
Manila International Bookfair
this week, which is being held at the World Trade Center on Roxas Boulevard until September 3, Sunday.
Thanks to
Elbert
, who did an excellent job on the cover and the interior illustrations! Am very happy with the way they turned out. (Although since I had most of my head hair shaved off, the caricatures don't look that much like me anymore. Luckily I'm still fat.)
Milflores Publishing doesn't have a budget for launches and such, but I have been talking to Yvette and Kidlat about holding one on my own, preferably at one of the bars I usually go to for gigs. Am hoping
Hong Kong Holiday
will play at the launch, if we manage to pull it off. (The other week, at
a dinner party
, HKH lead singer Waya sang absolutely devastating covers of "Waiting in Vain"* and "Overjoyed." You people don't know what you're missing.) :)
In the meantime, go out there and buy my book! You won't regret it. Okay, there's a slight chance you
may
regret it, but that will no doubt be due to some sort of failure on
your
part, as I am a writing genius and my book beyond reproach. Thank you.
*Originaly mis-identified as "Train in Vain." Clash, Marley, whatever.