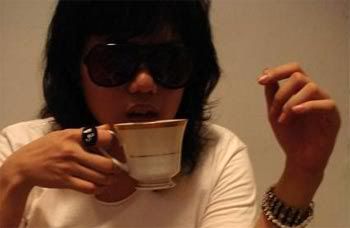 Waya quietly sips tea just before ROCKING YOUR BLOCK OFF
Waya Gallardo is probably the best singer I have ever seen perform live, and that's not something I say lightly, and it's not something I say just because she's my friend. I still remember watching her do a Led Zeppelin cover at Mayric's -- she was on her knees by song's end, singing her guts out, sending electricity up everyone's spines, bringing smiles to the faces of whatever Rock Gods may exist. She's equally adept at doing soulful renditions of songs by such masters as Al Green and Marvin Gaye, and let me tell you, you have to be really good to even
attempt
to do stuff that those two have already done.
One of my top three gigs of all time has to be the one where Waya and Beng Calma jammed with Squid 9 in Big Sky Mind, over two years ago. Waya and Beng improvised impeccably, weaving lyrics and melodies over the stylish sinuous sounds of Raimund Marasigan and Company, with Rann Golamco on riff-slinging duties and Raimund himself freestyle rapping. It was impressive as hell, and loads of fun.
And now, after a too-long hiatus, Waya's doing gigs again. She's got a gig on May 17 -- that's this Wednesday -- at 10 PM, on the third floor of Bite Club, Katipunan ("Sa tapat ng Blue Ridge"). She'll be doing covers of David Bowie, Scissor Sisters, Duran Duran, and other stuff. See y'all there.
PS. Non music-related plug! Aside from rocking people's blocks off, Waya also bakes
great desserts
. (I especially enjoyed her
"dessert dream list"
post.)