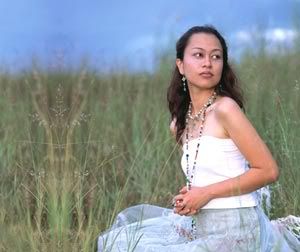 Will be in Ortigas this Wednesday, May 31, to catch a performance by
Isha
(a.k.a. Peach Abubakar-Quebral) at Kenny, the jazz bar near Pier 1 along Julia Vargas. The set starts at 9:30 PM; Peach will be playing covers of beloved jazz and new wave songs, as well as her originals, in her inimitable Tori Amos-influenced style.
To find the place -- which is walking distance from Antel Global, where our old office PULP is -- Peach says "Just go to Home Depot, sa gilid may strip na puro bar at resto, nandun yung Kenny." She describes Kenny thus: "There's a baby grand, low lights, the works! Perfect for smooching away." Heh heh. Cover charge is a mere Php50.
Good news is, she'll be playing there every Wednesday night from now on -- "My first regular puesto, yehey!" So people who can't make it on the 31st will have at least one chance a week to experience Isha's stuff. See you there!
PS.
Happy Birthday to my Mom, belated Happy Birthdays to
Avel
and Kidlat, and an advanced Happy Birthday to Emon!
PPS.
Go
here
to download TV themes galore, from the A-Team to the X-Men. :) Just grabbed Duck Tales and the surprisingly regga-ish Care Bears theme.