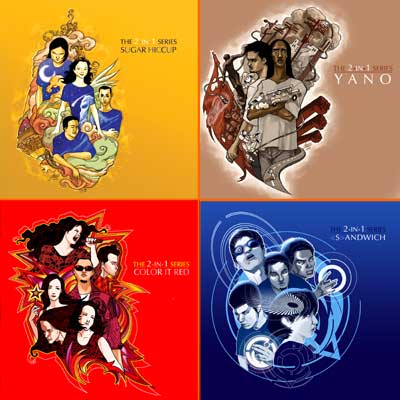 From
Cynthia's blog
:
"These four albums from SonyBMG are just the first batch of a series of 2-in-1 cds that feature the music of 90s bands like Yano, Sugar Hiccup, Sandwich and Color it Red. Don't mistake them for greatest hits collections though -- they're actually a repackaging of two original albums per artist that came out in the last decade. So buying one cd will actually give you two albums for the price of one, neat-o!... The cds go for P285 each, and please stay tuned because there are six more coming."
Very nice work! Am definitely getting the Sandwich set. I only ever had a cassette copy of
grip stand throw
(and even
that
is missing now). Will have to think about Sugar Hiccup though, since I do have a CD copy of
Womb
. Then again, I think P285 is actually less than the first CD originally cost. :)
Am wondering what the "six more" that are slated for release are...